The sixth (and most newly recognized) stage of grief is finding meaning from loss.
I have cycled through all of the stages of grief, many times over, since Bella left this world. I still really miss her and I always will.
…Do you know what Bella taught me in all of this? The meaning I take from her loss?
Be kind. I always endeavored to be kind, but that's not enough. Empathize. When your life is easy, it's difficult to see eye to eye with another. It's when life is tough that you can begin to understand what others may be experiencing.
I've found that the best part of grief is that it allows for empathy if you let it.
As the saying goes, "Be kind. Everyone you meet is fighting a battle you know nothing about."
Honoring Bella isn't just memorializing her, it's opening my heart to love another. Bella cannot be replaced. She was and is my most special girl.
…So sooner than expected, the time came for me to rescue another, and to be rescued in return.
In early December, Matt and I decided we would look at adopting a puppy in the new year. Not just any puppy, but a Shiba Inu.
They are extremely smart, clean and independent – in fact, they're considered one of the most cat-like dogs.
I didn't expect this to be an easy experience. Italy doesn't have a Petfinder type of site, so adopting isn't centralized. Plus, a Shiba Inu is a particular breed, often purchased from a breeder rather than available through adoption. Especially finding a puppy, I expected this to be a challenge. And then, add that we had never had a dog.
On Matt's birthday, 12/20, we were traveling by train. I was searching on Facebook for "shiba inu adozione". Much to my surprise, I found a very cute little puppy about 2 hours away. It said that he came from abroad and had been sick.
I contacted the woman who had posted him and asked if he was available. She said she didn't think so, but I asked her to feel free to follow-up if that changed.
A few days later on Thursday, 12/23, I happened to think about him and sent the woman a message and asked again if he was available. He was, but the woman thought I might be too far away. As it was only 2 hours by car, I thought perhaps she was worried that because I lived in the city, I didn't have outdoor space for him. I sent her a picture of our garden, and we soon had a call.
I learned that he was from Bulgaria and had been sick, his stomach. He was now recovering and about 5 months old.
After how sick Bella was, I was worried about caring for another sick animal, and so I had her speak with my wonderful vet the next day. My vet then spoke with her vet that Monday, 12/27.
I soon found out that the puppy was from a breeder in Bulgaria and was imported into Italy to sell. He likely had parvo, a very serious stomach bug that often kills puppies. His brother sadly was lost to this. He also had a bit of a cough. The Italy importer realized they couldn't sell him, so they brought him to the vet to try to save him. After the puppy was through the worst of it, the vet asked a woman who went there with 3 Shiba Inus of her own to take care of him until he was better. And so that's how this puppy came to be with her.
At this point, after our vet had spoken with the other vet, she knew he was sick but thought he would be ok, and that it would be fine for us to travel with him.
On Thursday, 1230, we drove 2 hours north to pick-up this puppy. If you've read past posts, you know my oddness with numbers and signs as it relates to Bella, and you know Thursday has historically been a tough day for me. Also, we picked Bella and Sammy up for the first time on January 23rd…123. The puppy had a sweater in the last picture I received of him. The sweater had a "B" on it.
His pet passport shows that he was born 7/23, the first day Bella got sick.
As it turns out, he's younger than what his passport shows. At our appointment on January 5th, one vet said around 4 months. At our appointment on January 15th, a different vet said 4.5 months. Meaning he was likely born right around when Bella passed on August 26th.
And finally, he arrived to Italy on November 20th, the same day we arrived to Italy 5 years before.
And so, we arrived at the foster woman's house, and 20 minutes later, we left with a puppy.
He was quite lethargic, and we found on the drive home that he had a nasty cough. We decided we didn't want to wait for a vet appointment and brought him that same day.
My usual vet wasn't there, but they were able to get us in that afternoon. They listened to his chest and did an x-ray. The worry was that he had kennel cough that was starting to spread down to his lungs. We got more antibiotics – he had already been on them for the 2 weeks prior. I asked the vet at the end if he would be ok, and he didn't seem sure. He had an uphill battle and we needed to try to get to the other side. That was a surprising and unfortunate response, especially given all we had so recently been through with our girl.
We brought him home and he was so sweet, but obviously lethargic and coughed all night. I slept on the floor with him for the whole night, even bringing him in the bathroom hoping the steam from the shower would help his cough.
The last 3 weeks have been a bit of a blur. He's been to the vet 3 times, been on antibiotics 2x per day, probiotics 2x per day, ear drops twice, eye drops 4x per day, eye wipes, 2 pills for potential parasites, and steroids.
He was a sick little puppy, and we learned the last time we were at our vet, that the original vet didn't think he would make it.
And yet, I'm not afraid. As the Bible verse says, "perfect love casts out fear." The love I shared with Bella was perfect and I've learned I don't have to be afraid. Losing Bella, as dramatic as it may sound, was the worst thing that's ever happened to me. But I'm still here, and I can love another, even knowing that the other won't be here forever either. With love comes loss, but I honor Bella by loving another.
I didn't want to buy from a breeder, and ironically, we ended up rescuing from one.
And now our little boy is doing so well. Still some cough that we're treating, but eating well, really playful and active and loves to chase his brother Sammy.
And so, I introduce to you Samurai, a name our little warrior has earned.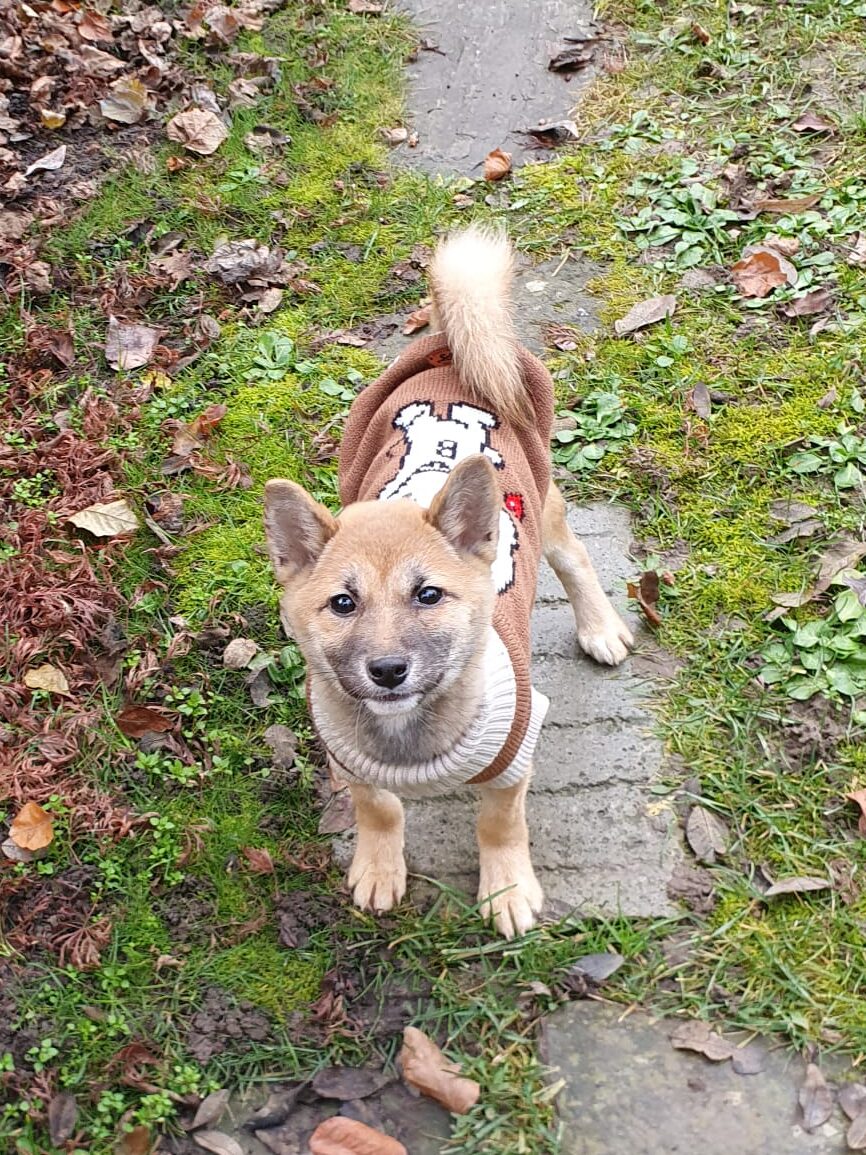 Slowly but surely, I'm finding meaning in losing Bella. There is life after loss, and we have to keep on living for those we loved and love.