"Grief is in two parts. The first is loss. The second is remaking of life."
And so began this project for my sweet girl.
I promised Bella I would bring her home, and I wanted something to commemorate her that would last my lifetime and beyond.
I had considered marble as an option, given how quintessential it is to Italy. After a bit of research, I was recommended a local artisan, Oliviero, who works in ceramic, terracotta and bronze. Since I wanted the sculpture to go outside, it needed to be strong enough to withhold the elements. While terracotta can be an option, it's still too fragile for my Bella. I decided even more beautiful than marble would be a bronze sculpture to bring Bella to life in a new way. She was a tabby after all. I first messaged Oliviero on August 28th, only 2 days after Bella passed. I needed to focus on something positive in all of this, and it was an experience that I will cherish forever.
First, we met in-person on September 6th to see his works and discuss what we were thinking for this project. Then, I sent him about 20 photos that showed Bella from all angles, in the pose we were planning and also that really capture her round face and eyes and fluffy chest.
Next up, on September 14th, we received these sketches and pictures of a small "test" version from Oliviero. The sculpture below was a mini version to determine the position of Bella.
On September 17th, we visited the studio to see this mini version and also the progress on the full-size sculpture of Bella. The latter is used to create a mold, to then be used for bronze casting. The most joy I felt during this painful period was seeing the progress of Bella's statue with her photos up on Oliviero's laptop and light music playing in the background. To know someone was devoting his days to my sweet girl still makes me happy to think about.
It was beautiful already, but I emphasized that her face and eyes were very round and chest was very tufty. Oliviero took that feedback with a laugh and a smile.
On October 5th, I visited Oliviero's studio again to see the nearly final clay version of Bella. I'll admit, there were a few tears. His passion is evident and his kindness in a sensitive time is appreciated. He really does impressive work.
In this short Instagram story he shared, Oliviero is putting the finishing touches on the clay model.
The next step was to create a wax model. The wax then is melted away after it is coated with bronze.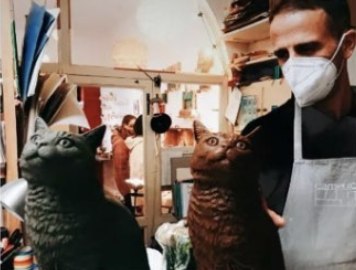 Oliviero messaged me on October 31st that the wax model was complete, and would soon go to the foundry to become a beautiful bronze statue.
Oliviero received the sculpture back from the foundry on December 7th, so about 5 weeks. This part of the process is completely out of his hands, though he properly set expectations about the length of time. He posted this sneak peek on his Instagram…
As of December 14th, Oliviero had finished his remaining work on the patina of Bella's statue, and we scheduled to meet on December 16th. Exactly 16 weeks since we lost Bella, which happens to be my favorite number and birthday.
Bella was ready to come home.
We picked her up Thursday night, and she is every bit as beautiful as I hoped for. Oliviero is an incredibly talented sculptor. This statue of Bella is a real treasure to me, signed with Oliviero's name as well as Bella's and the year 2021. The year I lost her, and the year she returned home. I will remember Bella forever, with or without all of the keepsakes I'm collecting, but this sculpture is a special way to honor my most special girl.
Oliviero models his animal figures off of the famous sculptor, Giambologna. Giambologna's life-size bronze birds sit in the Bargello museum in Florence, Italy. I (half) joke that one day I want to bequest my Bella statue to the Bargello, to be displayed next to those bronze birds forever.
Thank you from the bottom of my heart, Oliviero. Because of you, Bella is home for the holidays, nestled under our Christmas tree as our greatest gift.